The Club has secured Council funding for its Court Refurbishment project. This has been a three or four year process and we are very fortunate to be able to start work on our new courts this year. This page will provide all the information you need to understand what is happening and why.
We will be completing the works in two stages:
COMPLETE: resurfacing of the acrylic on Courts 3 & 4.
JUNE – SEPTEMBER: removal of the en-tout-cas courts and full reconstruction of new synthetic grass courts on a concrete base.
The new courts will provide more opportunties for as many people as possible to enjoy the courts. There will necessarily be some disruption as construction progresses, but the Club will do all it can to minimise this and ensure that everyone can get on for a hit as well as participate in competitions and coaching.
The en-tout cas courts have been excavated, and concrete will be poured shortly.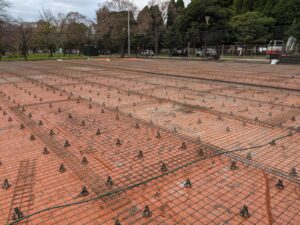 You will also notice the new spectator strip running between the courts. The Club will in time furnish this with benches and trees to provide a beautiful place to view from.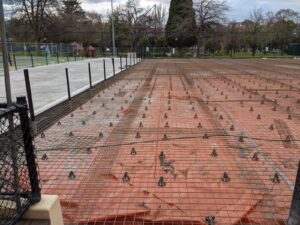 The bumps in the courts from tree roots will be smoothed and repaired, the net posts moved slightly, and a new acrylic surface will be laid.
Ideally we will put new benches and viewing areas on the east side of Courts 3 & 4.
The resurfacing was completed on 19 April – see image below.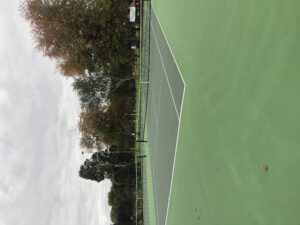 August 28. Excavation of Courts 1&2 Complete, pouring of concrete to commence soon.
August 15. Completion of central viewing area between courts.
April 19. Resurfacing of Courts 3&4 COMPLETE.
March 2021. Bumps on Courts 3&4 repaired, new asphalt laid, net posts moved.
April 6-10. New acrylic to be laid on Courts 3&4.
April. Reconstruction of Courts 1&2 put out to tender.